400-6586222 400-0870872
0531-83122668
No. 51, Industrial South Road, Lixia District, Jinan, Shandong, China
0.9 m wide glass door cabinet E7 ATLANTA
没有此类产品
I want to make an inquiry
Purpose:
1. Operating temperature is -1~5℃ and -18~-22℃
2. Display fresh, meat, dairy products and beverages
3. Length: 1500mm(two doors), 2200mm (three doors), 3000mm (four doors), 3750mm (five doors)
4. It can be spliced arbitrarily
5. Color can be customized
6. Electric heating anti-dew glass door
Advantage:
★The shunt structure of cooling air is adopted to achieve uniform cooling effect and to eliminate the cooling dead ends.
★Glass door with electrical heating and anti-condensation reduces power consumption.
★Glass door can close automatically.
★Multi-layer grid shelves can be combined freely with angle adjustable to augment display effects.
★Save 60% space compared to same volume island freezer.
★Save 50% energy compared to open type, Low running cost, invest one-off, benefit lifelong.
Product Details:
Real Scene Display:
Corresponding parameter set not found, please add it in property template of background
NO

Product Type

L*W*H(mm)

Temp.

Net Volume(L)

E7 ATLANTA (Frozen)H20

1

BD-E7YT-F1520-01

1500*932*2085

L1(≤-15℃)

1035

2

BD-E7YT-F2220-01

2250*932*2085

1553

3

BD-E7YT-F3020-01

3000*932*2085

2070

4

BD-E7YT-F3720-01

3750*932*2085

2650

E7 ATLANTA (Frozen) H20

1

BD-E7YT-F1520-E1

1500*932*2085

L1(≤-15℃)

1035

2

BD-E7YT-F2220-E1

2250*932*2085

1553

3

BD-E7YT-F3020-E1

3000*932*2085

2070

4

BD-E7YT-F3720-E1

3750*932*2085

2650

E7 ATLANTA (Refrigerator)H20

1

BZ-E7YT-F1520-01

1500*932*2085

M1(-1~5℃)

1035

2

BZ-E7YT-F2220-01

2250*932*2085

1553

3

BZ-E7YT-F3020-01

3000*932*2085

2070

4

BZ-E7YT-F3720-01

3750*932*2085

2650

E7 ATLANTA (Refrigerator)H20

1

BZ-E7YT-F1520-E1

1500*932*2085

M1(-1~5℃)

1035

2

BZ-E7YT-F2220-E1

2250*932*2085

1553

3

BZ-E7YT-F3020-E1

3000*932*2085

2070

4

BZ-E7YT-F3720-E1

3750*932*2085

2650

E7 ATLANTA (Refrigerator)H20

1

BD-E7YT-F3720-03

3750*932*2085

L1(≤-15℃)

2650

E7 ATLANTA (Frozen)H22

1

BD-E7YT-F1522-01

1500*932*2285

L1(≤-15℃)

1200

2

BD-E7YT-F2222-01

2250*932*2285

1800

3

BD-E7YT-F3022-01

3000*932*2285

2400

4

BD-E7YT-F3722-01

3750*932*2285

3000

E7 ATLANTA (Frozen)H22

1

BD-E7YT-F1522-E1

1500*932*2285

L1(≤-15℃)

1200

2

BD-E7YT-F2222-E1

2250*932*2285

1800

3

BD-E7YT-F3022-E1

3000*932*2285

2400

4

BD-E7YT-F3722-E1

3750*932*2285

3000

E7 ATLANTA (Refrigerator)H22

1

BZ-E7YT-F1522-01

1500*932*2285

M1(-1~5℃)

1200

2

BZ-E7YT-F2222-01

2250*932*2285

1800

3

BZ-E7YT-F3022-01

3000*932*2285

2400

4

BZ-E7YT-F3722-01

3750*932*2285

3000

E7 ATLANTA (Refrigerator)H22

1

BZ-E7YT-F1522-E1

1500*932*2285

M1(-1~5℃)

1200

2

BZ-E7YT-F2222-E1

2250*932*2285

1800

3

BZ-E7YT-F3022-E1

3000*932*2285

2400

4

BZ-E7YT-F3722-E1

3750*932*2285

3000

E7 ATLANTA (Refrigerator)H22

1

BD-E7YT-F3022-03

3000*932*2285

L1(≤-15℃)

2400

2

BD-E7YT-F3722-03

3750*932*2285

3000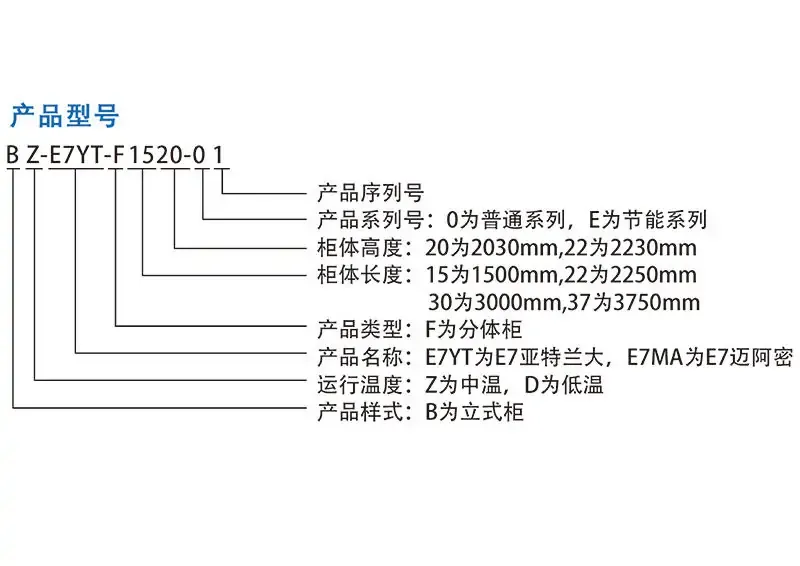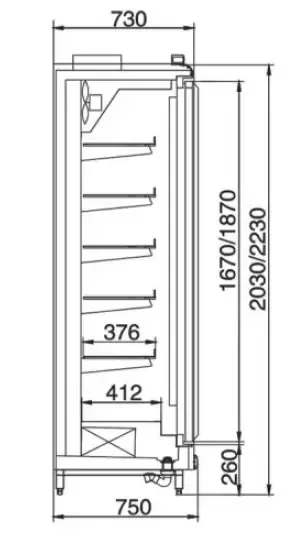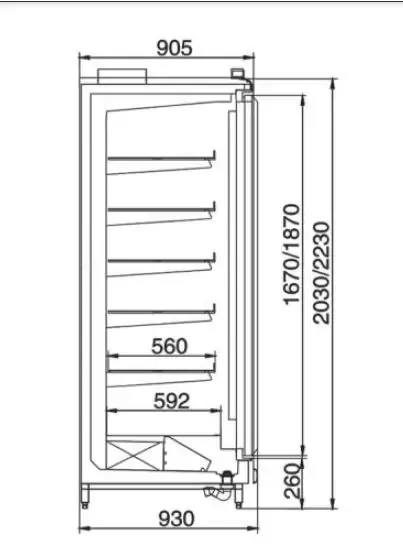 暂未实现,敬请期待
0.73 m wide glass door cabinet E7 MIAMI