400-6586222 400-0870872
0531-83122668
No. 51, Industrial South Road, Lixia District, Jinan, Shandong, China
fruit and vegetable cabinet E7 AUCKLAND
没有此类产品
I want to make an inquiry
Purpose:
1. Temperature control range 3H (1~10℃)
2. Display fruits and vegetables
3. Length: 1875mm, 2500mm, 3750mm
4. It can be spliced arbitrarily
5. Color can be customized
Advantage:
★Large volume, small occupied area.
★Low height of the front edge and large open display area provide the better display effect.
★Multi-layer shelf board freely combine with angle adjustable,
★The technology of trapezoid laminar flow air curtain and air outlet from back board ensure the air flow evenly and energy-conservation.
★High efficiency pre-cooling corrugated fins of evaporator increases cooling performance.
★Top light and shelf light are controlled separately to save energy.
★Anti-condensation switch design suits for all different ambient condition.
★Optional tempered glass door ensures safe, hygienic and energy-efficient.
★Optional top mirror structure for better display effect.
Product Details:
Real Scene Display: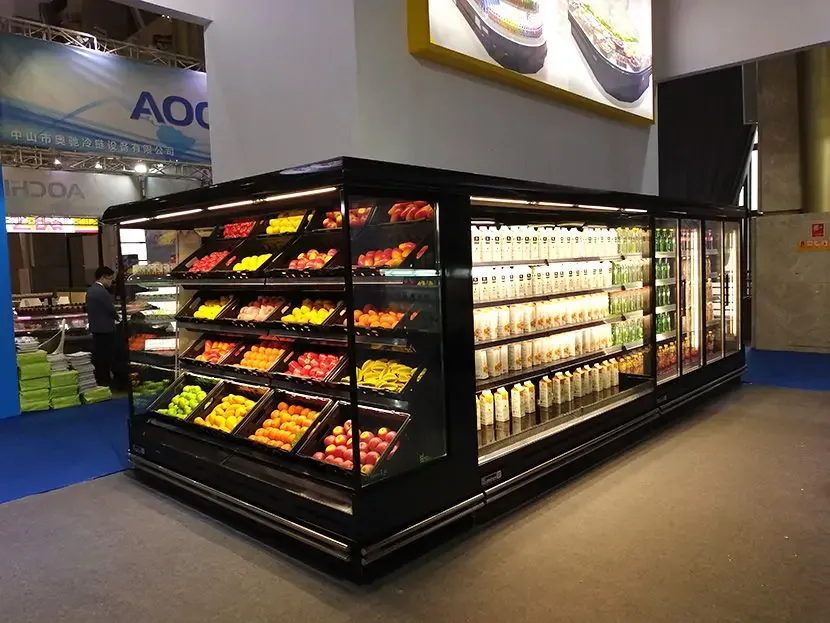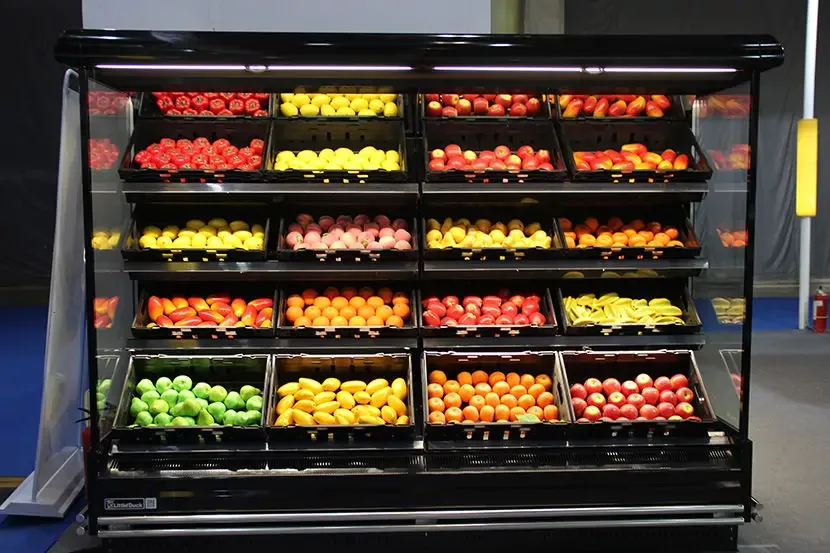 Corresponding parameter set not found, please add it in property template of background
NO

Product Type

L*W*H(mm)

Temp.

Net
Volume(L)

               

NO

Product Type

L*W*H(mm)

Temp.

Net
Volume(L)

 

E7 AUCKLAND H20

 

E7 AUCKLAND H23

1

BZ-E7OK-F12203Y-05

1250*967*2045

M2(-1~7℃)

240

1

BZ-E7OK-F25233Y-05

2500*967*2280

M2(-1~7℃)

480

2

BZ-E7OK-F18203Y-05

1875*967*2045

360

2

BZ-E7OK-F37233Y-05

3750*967*2280

720

3

BZ-E7OK-F25203Y-05

2500*967*2045

480

 

E7 AUCKLAND H23

4

BZ-E7OK-F37203Y-05

3750*967*2045

720

1

BZ-E7OK-FN90233-05

1200*1200*2280

M2(-1~7℃)

144

5

BF-E7OK-FN90203-05

1200*1200*2045

144
NO

Product Type

L*W*H(mm)

Temp.

Net
Volume(L)

               

NO

Product Type

L*W*H(mm)

Temp.

Net
Volume(L)

 

E7 AUCKLAND H20

 

E7 AUCKLAND H23

1

BZ-E7OK-F12203Y-05

1250*967*2045

M2(-1~7℃)

240

1

BZ-E7OK-F25233Y-05

2500*967*2280

M2(-1~7℃)

480

2

BZ-E7OK-F18203Y-05

1875*967*2045

360

2

BZ-E7OK-F37233Y-05

3750*967*2280

720

3

BZ-E7OK-F25203Y-05

2500*967*2045

480

 

E7 AUCKLAND H23

4

BZ-E7OK-F37203Y-05

3750*967*2045

720

1

BZ-E7OK-FN90233-05

1200*1200*2280

M2(-1~7℃)

144

5

BF-E7OK-FN90203-05

1200*1200*2045

144
NO

Product Type

L*W*H(mm)

Temp.

Net
Volume(L)

               

NO

Product Type

L*W*H(mm)

Temp.

Net
Volume(L)

 

E7 AUCKLAND H20

 

E7 AUCKLAND H23

1

BZ-E7OK-F12203Y-05

1250*967*2045

M2(-1~7℃)

240

1

BZ-E7OK-F25233Y-05

2500*967*2280

M2(-1~7℃)

480

2

BZ-E7OK-F18203Y-05

1875*967*2045

360

2

BZ-E7OK-F37233Y-05

3750*967*2280

720

3

BZ-E7OK-F25203Y-05

2500*967*2045

480

 

E7 AUCKLAND H23

4

BZ-E7OK-F37203Y-05

3750*967*2045

720

1

BZ-E7OK-FN90233-05

1200*1200*2280

M2(-1~7℃)

144

5

BF-E7OK-FN90203-05

1200*1200*2045

144
暂未实现,敬请期待
2.3 meter high fruit and vegetable
1.6m high circular island cabinet E8 Orlando